Eclectic Music and More
About St. Clair Productions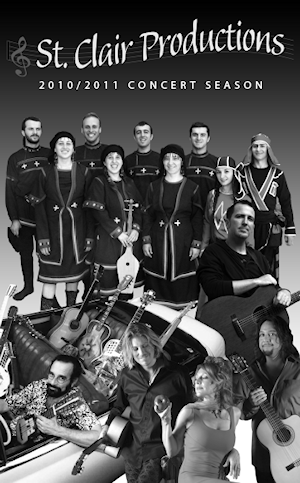 St Clair Productions, founded by Ariella St. Clair in 1995, is dedicated to bringing quality music and entertainment to the Rogue Valley. Our specialty is singer/songwriters in the folk genre and traditional and ethnic music from the US and around the world. Some seasons we also throw in a one-person theater piece or comedian into the mix, thus the name "Eclectic Music and More".
In April, 2000, St. Clair Productions became a 501(c)(3) nonprofit under the group exemption of the North American Folk Music and Dance Alliance. A group exemption allows a large organization to over-see smaller organizations that have similar missions. Each of the smaller organizations remain independent entities and are considered 501(c)(3) non-profits with their own EINs. Thus, St. Clair Productions can accept donations directly and all donations are tax-deductible. Our EIN is 93-1309156. The Folk Alliance Group Exemption Number is GEN 8047.
Our concert season runs September through May. Most concerts are held at the Unitarian Fellowship, 87 4th Street, Ashland, and begin at 8 p.m. We also sometimes use Havurah Shir Hadash or the Historic Ashland Armory. Capacity of the Fellowship is 250. We present one to two concerts a month, usually on Friday or Saturday. Past performers include: Jai Uttal, Andy Statman Trio, Rosalie Sorrels, Kitka, Harry Manx, Patrick Ball, Golden Bough, Alasdair Fraser and Natalie Haas, Bill Staines, Rajeev Taranath, Kate MacKenzie, Robin and Linda Williams, Radim Zenkl, Steve Gillette and Cindy Mangsen, Battlefield Band, Susan McKeown and the Chanting House, On Ensemble, Klezmatics, Christine Lavin, Lucy Kaplansky, and many, many more. See our Past Shows page for a complete list.
From 2001-2010, we produced the Rogue Valley Blues Festival during Martin Luther King Jr. holiday weekend in January. However, until the economy improves, we have decided to discontinue producing the festival and concentrate on our concert series.
If there is a particular artist that you would like to see, or if you are an artist coming through Southern Oregon and are interested in a booking, please email us a press kit to booking@stclairevents.com or just give us a call at (541) 535-3562.
About Ariella St. Clair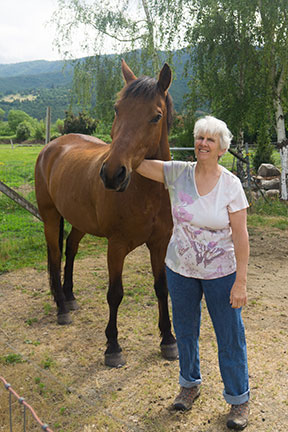 I have been producing shows in one form or another since the mid-70s when I joined a collective in Kansas City called The Fool Killer. We owned a theater and put-on one-act plays and folk music every weekend. Before long I was hooked on the excitement of meeting musicians and introducing audiences to great music. 1978 found me in Lawrence, KS, where I became part of a collective running a vegetarian restaurant called Sister Kettle. Tuesday night I ran a coffeehouse, booking the musicians who had played at the Fool Killer the weekend before. Admission was probably under $2. (Remember those days?) Several years later, I landed in Santa Cruz, CA, during my "holier-than-thou" days. Folk music wasn't spiritual enough, so I switched to New Age concerts held at the Unity Church. When I finally decided what I wanted to be when I grew-up, I went back to college, graduating with a BS in public relations from San Jose State University in 1993. After a short sojourn in Mount Shasta City, CA, which I discovered was too small to support the concerts I wanted to produce, I moved to Ashland, OR. When the board of the Ashland Folk Music Club asked me to produce concerts for them, I realized I had come back to the music I love. So, for three years most of St. Clair Productions' shows were produced for the Ashland Folk Music Club. When the Ashland Folk Music Club decided to only produce contra dances, St. Clair Productions took over the concert series.
Current Board Members:
Ariella St. Clair, President
Lucie Schuer, Secretary
Benjy Ben Burach, Treasurer
Dalya Ralston
Andy Ralston
Lauren Cetlin
David Goodwin

We are currently looking for new board members. Won't you please join us in presenting fabulous folk and ethnic music concerts. We would love your input.