Tickets
Tickets purchased within 7 days of concert will be held at the door.
Eclectic Music and More
Cancelled due to musician's health emergency
Saturday, November 21 • 8 p.m.
Tickets: $25/advance, $28/door, $10/teens 12-17,
children under 12 are free with paying adult.
Unitarian Fellowship, 4th and C Streets, Ashland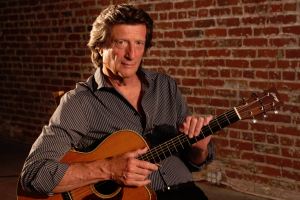 "His ability to take the emotion at the heart of a song, make it transparent and pass it on to the listener is unmatched. Smither's rich, deep, emotion-charged voice and his exquisite guitar playing imbue these simple thoughts with a profundity forged out of genuine passion." Sydney Morning Herald
A profound songwriter, Chris Smither draws deeply from the blues, American folk music, modern poets, and philosophers. Reviewers continue to praise his dazzling guitar work, gravelly voice and songwriting. "Smither is an American original – a product of the musical melting pot and one of the absolute best singer-songwriters in the world." Associated Press
In his early twenties, Smither turned his back on his anthropology studies and headed to Boston at the urging of legendary folk singer Eric von Schmidt. It was the mid-'60s and acoustic music thrived in the streets and coffeehouses there. Smither forged lifelong friendships with many musicians, including Bonnie Raitt who went on to record his songs, "Love You Like A Man" and "I Feel the Same. (Their friendship has endured with Bonnie guest-appearing on Smither's record Train Home. Over the years she has invited Chris to join her as support on concert dates, and most recently, lent her take on Chris' "Love You Like A Man" for Link of Chain, a Chris Smither tribute CD.) What quickly evolved from his New Orleans and Cambridge musical experiences is his enduring, singular guitar sound – a beat-driven finger-picking, strongly influenced by the playing of Mississippi John Hurt and Lightnin' Hopkins, layered over the ever-present backbeat of his rhythmic, tapping feet (always mic'd in performance).
By the early '90s, Smither's steady nationwide touring and regular release of consistently acclaimed albums cemented his reputation as one of the finest acoustic musicians in the country.
In early 1997 Smither released Small Revelations. It climbed the Americana and Triple A radio charts and led to concert dates with B.B. King, Bonnie Raitt, Nanci Griffith, and the hugely successful, original Monsters of Folk' tour with Ramblin' Jack Elliott, Dave Alvin and Tom Russell. Small Revelations also generated several film projects for Smither. Emmylou Harris recorded his song, "Slow Surprise," for the The Horse Whisperer soundtrack on MCA. And his recording of "Hold On" was used in the indie feature film Love From Ground Zero.
The most recent recording project is Still On the Levee (2014) – a double-CD retrospective. Recorded in New Orleans at the Music Shed, this career-spanning project features fresh new takes on 24 iconic songs from his vast career – including Devil Got Your Man, the first song he penned, on up to several of his most recent originals.
Coming out at the same time as Still On the Levee, the book Chris Smither Lyrics 1966-2012 features his complete set of lyrics complemented by select images of Chris and performance memorabilia from his decades-long career.
To commemorate his career to-date, Signature Sounds is releasing an all-star tribute record including a stellar list of artists offering their takes on some Smither favorites including Josh Ritter, Bonnie Raitt, Loudon Wainwright III, Dave Alvin, Peter Case, Tim O'Brien, Patty Larkin, and many others.
Honing a synthesis of folk and blues for 50 years, Chris Smither is truly an American original. As Acoustic Guitar magazine wrote, Smither sings about "the big things – life, love, loss – in a penetrating and poetic yet unpretentious way."