Tickets
Tickets purchased within 7 days of concert will be held at the door.
Eclectic Music and More
Eliza Gilkyson
Grammy-nominated singer, songwriter and activist
with Nina Gerber on Guitar
Saturday, February 20, 2016 • 8 p.m.
Tickets: $25/advance, $28/door, $10/teens 12-17,
children under 12 are free with paying adult.
Unitarian Fellowship, 4th and C Streets, Ashland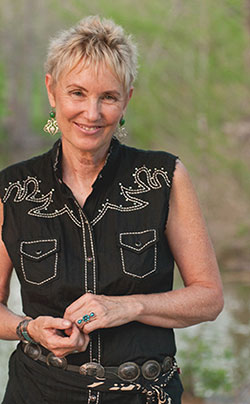 "Her string of nine albums recorded for Red House Records since 2000, including the trio album Red Horse, serve as a testament to her consistency and the magnitude of her talents as a vocalist, songwriter, and instrumentalist. If this were a competition, these albums would stand alongside and surpass those recorded over a similar period of time by Rosanne Cash, Lucinda Williams, and John Hiatt. Yeah, she's that danged good." ~ The Lonesome Road Review
Eliza Gilkyson's music has always offered a vivid reflection of the times we live in, full of joys and sorrows, each song a window into a life of struggle and triumph in a world she feels is "poised on the edge of moral, economic and environmental bankruptcy." On stage, she presents a vibrant mix of laugh-til-you-cry storytelling, political diatribe, love songs ranging from the global to the most intimate, and some of the best support musicians in the world.
The daughter of legendary songwriter Terry Gilkyson, Eliza entered the music world as a teenager, recording demos for her father. Since then she has released 20 recordings of her own, and her songs have been covered by Joan Baez, Bob Geldof, Tom Rush and Rosanne Cash and have been used in films, PBS specials and on primetime TV.
Eliza has appeared on NPR, Austin City Limits, Mountain Stage, etown, XM Radio, Air America Radio. She has toured worldwide as a solo artist and in support of Richard Thompson, Patty Griffin, Mary Chapin Carpenter, Dan Fogelberg. She appeared with the Woody Guthrie review, Ribbon of Highway-Endless Skyway, alongside the Guthrie Family, Jimmy Lafave, Slaid Cleaves, and special guests Pete Seeger, Jackson Browne and Kris Kristofferson. Eliza was inducted into the Austin Music Hall of Fame and has won the Austin Chronicle's various music awards.
Eliza's CD Land of Milk and Honey was nominated for a Grammy for Best Contemporary Folk Album. Eliza's meditative "Requiem," written as a prayer for those who lost their lives in the devastating tsunami in Southeast Asia, was recorded by the internationally recognized choral group Conspirare, whose version was nominated for a Grammy and won the prestigious Edison Award in Europe. The song has become a standard in choir repertory the world over. Two of her songs appeared on Joan Baez' Grammy-nominated CD, Day After Tomorrow. In addition to touring in support of her previous release, Roses at the End of Time, in 2011 and 2012 Eliza and label-mates John Gorka and Lucy Kaplansky performed as "Folk Super Trio" Red Horse, a side project whose CD stayed for months at the top of the Folk Music Charts. In 2014 Eliza was invited to contribute a track on the Jackson Browne tribute, Looking Into You, along with Bruce Springsteen, Don Henley, Sara Watkins, Shawn Colvin, Bonnie Raitt and others.
In 2014, her latest Red House Records release, The Nocturne Diaries, also was nominated for a Grammy. Produced by her son, Cisco Ryder, it is a restless contemplative work inspired by the converging forces of her highest hopes and darkest fears.
"Even the darkest moments here are warmed by a genuine compassion for the lost souls who sometimes populate her stories, and a very real concern for the world we all live in is woven through every tune… Whether she looks into darkness or light, Eliza Gilkyson's vision is impressive, and she's given us another remarkable glimpse at her gifts as a vocalist and songwriter on The Nocturne Diaries." ~ All Music Guide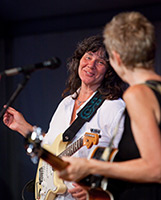 "She's a musician's musician, or maybe she's just everybody's favorite guitarist."
.:. Nevada City Prospector .:.
"Amongst acoustic guitarists, Gerber is held in near universal high regard, not least for how she distills strength from subtlety. Her melodic fretwork warmly complements and never overwhelms..."
.:. Pasadena Weekly .:.
"Enough can't be said about how valuable Nina Gerber is to so many acoustic music projects in the area... Yet to put herself in the spotlight she deserves, Gerber has evolved from the late Kate Wolf's accompanist into an accomplished arranger and producer and a ubiquitous sidewoman... Gerber fleshes out each tune with brisk fills and sensitive solos that never distract from the fundamental feeling or direction of the composition. Unlike so many showboating rock guitarists these days, she plays to the singer and song, not to a video-addled audience's idea of virtuosity... Impeccable taste... Subtle six-string brilliance."
.:. East Bay Express .:.
©Copyright St. Clair Productions