Eclectic Music and More
Tickets
Tickets purchased within 7 days of concert will be held at the door.
Saturday, March 12, 2016 • 8 p.m.
Tickets: $18/advance, $20/door, $10/teens 12-17,
children under 12 are free with paying adult.
Unitarian Fellowship, 4th and C Streets, Ashland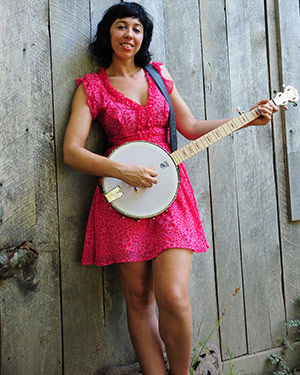 Mean Mary, international singer/writer & master of 11 instruments, is not really so mean--even Hank Williams Jr. called her a "sweetheart." But she IS infamous for her alluring story songs, incredible instrumental speed, & a rich voice that can travel from deep emotion to sparkling trills.
'Mean Mary' James, a Florida native now based in Nashville, began life as a musical prodigy—could read music before she could read words and co-wrote songs at age five. By age seven she was proficient on the guitar, banjo, and violin, and entertained audiences across the US with her vocal and instrumental skills. Her life has been one long road show interspersed with TV, radio, and film. She has performed more than 500 live TV shows and over 4,000 road shows—including national festivals, fairs, cruises, colleges, theatres, clubs and house concerts.
Mary was the headline act at the Filey Folk Festival in 2014 and was a revelation. Most famous for her lightening banjo chops she proved equally versitile on guitar and fiddle. Playing many original songs from her large back catalogue she also played spirited renditions of several folk and bluegrass favourites. She connected with the audience many of whom were seeing her for the first time as well as anyone I've seen before and has an infectious disposition. Can't wait to have her back over to the UK in 2016. - Chris Lee, festival/concert promoter, (Filey, England).
The voice of a ragged Angel combined with the banjo playing of the Devil ... The epic Death and the Maiden (9 mins. and 45 seconds) would have had me diving for the FF button in the hands of most other Folk singers, but here I have listened intently on several listens and each time the song unravels another secret; which is quite an achievement. ... Memphis Moon has a Country Blues feel to it and (my favourite track) Sweet Jezebel, which closes the record had me comparing Mary to both Nanci Griffith AND Joni Mitchell which may sound odd; but is the perfect description. - (Year of the Sparrow) album review, No Depression
Mean Mary is a prolific songwriter, playwright, novelist, producer, and the spirited star of Nashville TV show, "Never-Ending Street."
Mean Mary's YouTube videos receive over 3000 hits a night and rising!
Visit: http://www.youtube.com/meanmary80
Intermediate/Advanced Banjo Workshop
Tickets
Tickets purchased within 7 days of concert will be held at the door.
Sunday, March 13 10:00 am - 11:30 am
Venue: Hilltop Music in the Ashland Street Cinema Shopping Center.
Cost: $25
Bring your instruments for a hands-on experience.
©Copyright St. Clair Productions