Tickets
Tickets purchased within 7 days of concert will be held at the door.
Eclectic Music and More
Fire & Grace: Virtuoso Violin Meets Celtic Guitar
Saturday, April 30, 2016 • 8 p.m.
Tickets: $20/advance, $22/door, $10/teens 12-17,
children under 12 are free with paying adult.
Unitarian Fellowship, 4th and C Streets, Ashland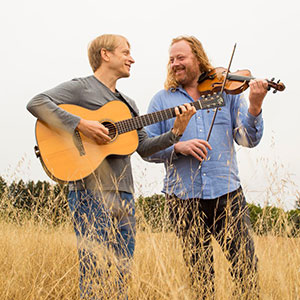 If you've been to Tomaseen Foley's "A Celtic Christmas" at the Craterian Theater, you've seen these two musicians perform as part of the show. Guitarist William Coulter has been performing with Foley for many years and fiddler Edwin Huizinga for the last three.
Performing together as the duo Liquid Gold, Coulter and Huizinga offer an eclectic exploration into the fire and grace that connects the elements of classical, folk and contemporary musical traditions from around the world.

William Coulter In 1980, William Coulter moved to Santa Cruz, California, where he studied classical guitar and earned a bachelor of arts degree from the University of California-Santa Cruz. He went on to earn a master's degree in music from the San Francisco Conservatory of Music. Deeply interested in American folk music as well as traditional Celtic music, he then earned a second master's degree from the University of California-Santa Cruz in Ethnomusicology.
In 1988, Coulter teamed with Barry Phillips, Shelley Phillips, Steve Coulter and Anne Cleveland to form an ensemble called Orison, the name taken from the Middle English word for prayer or invocaton. Combining harp, guitar, cello, oboe, percussion and English horn, the repertoire included music from both the folk and classical traditions, as well as original compositions.
In 1993, Coulter invited fellow guitarist Benjamin Verdery to play on some recording sessions of traditional and contemporary Celtic music. This first album Celtic Crossing was released in 1995 and reflected Coulter's longstanding love for traditional Celtic music. Inspired by this musical tradition,
In 1997, Coulter and Verdery followed up with the album Celtic Sessions, which featured contemporary arrangements of old Irish songs. Coulter characterized the album as "pristine ... capturing a range of nuances and gentle moods that are rarely heard on recordings of Celtic music." In 1999, Coulter and Verdery concluded the trilogy with the album Crooked Road, which again featured traditional Irish and Scottish melodies, as well as some contemporary songs.
Following the success of his Celtic trilogy of albums, Coulter went on record a second trilogy of albums with cellist Barry Phillips that explored the musical heritage of the Shakers. These include: Simple Gifts, Tree of Life, and Music on the Mountain.
In 2004, Coulter released the album The Road Home, his first truly solo recording since he began exploring Celtic music. The album contains tunes from Ireland, Brittany, Norway, Portugal and America, as well as several original compositions.
Jefferson's Fiddle is Coulter's latest CD, releasedin 2012. It features Deby Benton Grosjean on fiddle and is a delightful collection of modern arrangements and readings of classical and traditional repertoire that showcase Thomas Jefferson's extensive music library. Selections include Scottish tunes such as "Robin Adair," "The Last Time I Came O'er the Moor," and "Money Musk." Three compositions composed for Jefferson by Anglo-Italian musician and painter Maria Cosway are included—"Tacite Ombre," "Ogni Dolce Aura," and "Sospiri del Mio Cor." Also featured is traditional music of America and Ireland, as well as "Sarabande and Gigue" by the Italian composer Archangelo Corelli (1653–1713).
Canadian-born violinist Edwin Huizinga is quickly establishing a reputation as one of North America's most versatile violinists. Performing both baroque and modern repertoire he enjoys performing with musicians from all kinds of genres worldwide.
As a soloist and chamber musician, Edwin has performed with the San Bernardino Symphony, the Note Bene Ensemble, the Kitchener-Waterloo Chamber Orchestra, the Georgetown Bach Chorale, the Carmel Bach Festival, the Sweetwater Music Festival, the Trinity Alps Chamber Music Festival, and Banff Summer Arts Festival, among others.
As a baroque violinist, Edwin has toured throughout North America, Europe, and Asia with the world-renowned baroque orchestra Tafelmusik, Opera Atelier, the Wallfisch Band, Aradia Ensemble, and Theater of Early Music. He is a founding member of the baroque ensembles Passamezzo Moderno and ACRONYM, and is a member of the string trio Academy Concert Series. Edwin has served as guest director of the Atlanta Baroque Orchestra, as a guest artist with I FURIOSI Baroque Ensemble, and as guest concertmaster of the New Dutch Academy and the Kansas City Baroque Orchestra.
As a modern violinist, Edwin has performed all over the US and Germany with The Knights NYC, and has recently joined the contemporary quartet OSSO based in NYC. Edwin has worked with notable conductors along the likes of James Gaffigan, Bruno Weil, Simon Rattle, Matthias Pintscher, Paul Goodwin, Jane Glover, and more.
In addition to his career as a classical violinist, Edwin is a member of the Juno-nominated indie rock band The Wooden Sky. He has performed with Broken Social Scene and Jazz Mafia, and has recorded with The Mars Volta and Vanessa Carlton, Great Bloomers, the Minators, among others.
Edwin has a passion for bringing chamber music to the people and is a founding member of the Classical Revolution which began in San Francisco in 2006. He currently serves as the Artistic Director of the Toronto Chapter of Classical Revolution, which he founded in 2010. Through Classical Revolution, he and his colleagues are shaping a future of concerts and jam sessions in alternative spaces around the world.
Edwin's dedication to music education led him to his current position as Artistic Director of the Big Sur Music Camp. He has coordinated outreach with the Banff arts Centre, Oberlin College, Panama City, Panama, the Carmel Bach Festival, and more. He also currently teachers with The Hammer Band's Violence to Violins program in Toronto, reaching children in at-risk neighbourhoods who may otherwise never have an opportunity to learn music or play an instrument.
Edwin has a Bachelor of Music degree from Oberlin Conservatory and a Master of Music from the San Francisco Conservatory of Music.
©Copyright St. Clair Productions