Tickets
Tickets purchased within 7 days of concert will be held at the door.
Eclectic Music and More
Keith Greeninger
Intricate Portraits of the Human Condition
Saturday, January 23, 2016 • 8 p.m.
Tickets: $18/advance, $20/door, $10/teens 12-17,
children under 12 are free with paying adult.
Unitarian Fellowship, 4th and C Streets, Ashland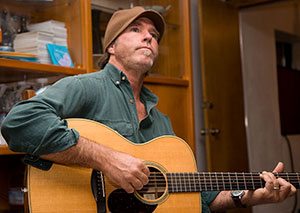 As a singer-songwriter, Keith paints intricate portraits of the human condition with powerful melodic images, deep engaging guitar rhythms and husky, heart-wrenching vocals. His masterfully crafted tunes and powerful presence have earned him the top songwriting awards at the prestigious Telluride Blue Grass Festival, The Kerrville Folk Festival and The Napa Valley Folk Festival. Keith has toured the national Folk and Americana circuit extensively for over two decades. He's performed at festivals and legendary venues, appeared on countless national radio shows, and shared stages with dozens of the country's best-known artists. Keith's records and personal appearances have garnered him a legion of devoted fans, and the respect, admiration and appreciation of music critics far and wide.
In the early years of Keith's career, he also worked as a carpenter. His travels took him from Colorado to Vermont to Alaska, Central America and back home to the Santa Cruz Mountains where he grew up. All the while, Keith worked to combine his own personal vision with his strong faith in humanity, justice and the power of nature. Every experience presented new opportunities for his music and his songwriting. Every encounter, every odd job, new city or community all became an integral part of his bittersweet lyrics and acoustic mix of folk and rock.
At the height of the US backed Contra war in Central America, Keith traveled to Nicaragua to help build schools and housing for people who had been displaced by the tragic war. His days were spent building small shelters for the people who lived in the northern mountains, while his nights were spent listening to stories and beautiful songs from his fellow local workers. The Latin American culture had a big influences on Keith's music.
Keith then moved to San Francisco where he founded City Folk. Together with Kimball Hurd and Roger Feuer, City Folk created soul-stirring three-part harmonies and intricate musical arrangements. City Folk quickly rose to the top of the Bay Area folk scene and became popular on the National Folk and Americana circuits. The group performed at festivals, concert halls, and a countless number of watering holes from coast to coast. In a span of six years, City Folk recorded and released three albums and, in 1995, won KFOG's Best of the Bay music award. That year would also mark the end of City Folk.
Keith's first solo album, Wind River Crossing was released in 1997. The record included musical contributions by well-known artist like Flaco Jimenez, Peter Michael Escovido and Martin Simpson. Wind River Crossing earned rave reviews from critics and fans alike for its stunning artistry and soul.
More awards and accolades followed including wins at the prestigious Kerrville New Folk Songwriting Competition and the Napa Valley Songwriting Competition. Keith was also invited to help put together a unique music and wilderness festival called The Gathering at Island Lake in British Colombia, Canada. The experience found him living in Canada for a period of time, traveling and performing through out BC and Western Alberta. The festival became a showcase of International artists and musicians sharing the stage with Black Foot and Cree Story tellers, dancers and teachers.
Back in Northern California, Keith recorded his second solo album Back To You. The making of Back to You forged a strong musical bond and friendship between Keith and multi-talented, multi-instrumentalist, Dayan Kai. The two often perform as a duo.
Glorious Peasant (2006) was Keith's third solo album. This album became what many have referred to as his signature album. Glorious Peasant brings together many of the artists from the previous CDs.
With the release of Make It Rain in 2010, Keith continued his fruitful collaboration with Dayan Kai, containing some of the songs that helped Keith win first place at the Telluride Troubadour competition.
On his most recent CD Soul Connection, Keith worked with keyboardist Bill Payne, well known for his work with Little Feat, Jackson Browne, Bob Seger, Emmylou Harris and James Taylor. Making up the rhythm section for 8 of the 11 tracks are Hutch Hutchinson and Ricky Fataar from the Bonnie Raitt Band. Rounding out the electric guitar and slide is Grammy award winner Randy Ray Mitchell.
No Depression Magazine said "The verse, chorus, verse, chorus, and out three-minute duration simply doesn't apply, rather what we have here are, in the main, extemporisations — sublime sonic landscapes if you will — in which the listener can envelop himself."
Richard Cuccaro, from Acoustic Live in NYC says "Keith Greeninger strides through a rocky soundscape like a creator in command of wind, rain and thunder. His husky baritone is an anchor in a turbulent sea of life. With each successive listen, it seems to get richer and more lush," also adding,"This album in the headphones is going to make life around here a lot more bearable."
©Copyright St. Clair Productions