Tickets
Tickets purchased within 7 days of concert will be held at the door.
Eclectic Music and More
Cheryl Wheeler
Funny Songs, Ballads, and Songs to Touch the Heart
Sunday, September 20, 2015 • 5pm
Tickets: $20/advance, $22/door, $10/teens 12-17,
children under 12 are free with paying adult.
Grizzly Peak Winery, 1600 E Nevada St, Ashland
Peter Mulvey, opens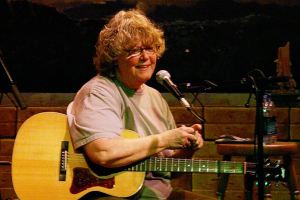 Come enjoy an evening of wine, music, good food and a lovely setting amidst the trees of Grizzly Peak Winery. If it rains, we'll be indoors in their newly completed theater.
If your idea of a folk singer/songwriter concert is a bunch of people clapping politely after songs, and then sitting quietly while the performer says things like "This next song is about ...", well, you've never seen a Cheryl Wheeler concert before.
Cheryl's concerts are more like what you would find at a comedy club than expect to find at a folk music concert. She will tell a story that has you rolling in the aisles, and then sing a song that leaves you wiping tears from your eyes. She will talk about some serious current event, and then sing a song that will have you howling with laughter. Her entire concert is an emotional roller coaster.
Her set list is usually a crumpled piece of paper with a bunch of song titles. After each song, she'll look at the list and decide what to do next. If somebody calls out a request, and her guitar is in the right key, she might try it, even if she hasn't done it in a while. If she just finished writing a song, she will usually try it out in front of the next audience. If she has two sets back to back, she almost never does the same (or even similar) group of songs.
Her funny stories between songs show as much diversity. Each time she tells a story, it will be a little bit different, so even if you've heard it before, you still find yourself laughing.
Chery's songs have been covered by artists as diverse as Dan Seals, Peter Paul and Mary, Kenny Loggins, Garth Brooks, Suzy Boggus, Melanie, Bette Midler, Maura O'Connell, Sylvia, Kathy Mattea, and Holly Near.
In 1983, Cheryl released a self produced EP called Newport Songs. Her first two albums Cheryl Wheeler in 1986, and Half a Book in 1991 were on an independent label, North Star. That company also released a promo tape called Live and Otherwise in 1987. This was a bonus tape that was sent to anyone who filled out a survey form that was included in a number of the North Star albums.
Her third album, Circles & Arrows, was originally released on Capitol in 1991, but it was dropped almost immediately due to a political shakeup with the label company. (The people who had promoted her album were let go, and Capitol decided to heavily promote Garth Brooks)
Her fourth album Driving Home was on Philo in 1993, a division of Rounder, and produced three singles: Almost, Silver Lining, and 75 Septembers, a song written for her father, and covered by Peter, Paul & Mary on their album Life Lines.
Rounder later reissued Circles & Arrows in 1995, followed by Mrs. Pinocci's Guitar in 1995, Sylvia Hotel in 1999, the compilation album Different Stripe in 2003, and finally Defying Gravity in 2005.
In 2009, Cheryl released Pointing at the Sun on her own label, Dias Music. This album includes some of the songs that appeared on No Previous Record, along with other new songs and a remake of Summerfly.
In 2012, Cheryl finally released a live album Cheryl Wheeler Live at the Triple Door, featuring Kenny White.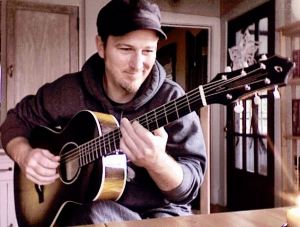 Peter Mulvey has pursued a restless, eclectic path as a writer and musician – immersing himself in Tin PanAlley jazz, modern acoustic, poetry, narrative, and Americana stylings. Relentlessly touring as a headliner – his attitude is, "When you love what you do, you can work all the time," – he has also shared the stage with luminaries such as Emmylou Harris, Richard Thompson, Ani diFranco, Indigo Girls, and Greg Brown, and has attracted an audience that stretches from Anchorage to Amsterdam.
Whether playing solo or with a band in tow, Mulvey has a rare ability to hold an audience's attention and transport them, using wit, humor, and a subtle but sophisticated melodic and harmonic sensibility to gracefully introduce complex and provocative concepts and characters.
As a complement to his touring and recording, Peter has also kept a hand in education; teaching guitar and songwriting workshops across the country. His songs and deep baritone voice have been heard in documentary films, major television shows, and by dance and theater companies.
Mulvey draws on an extremely broad swath of influence; he is always reading, listening, and eager to hear new poetry, modern minimalist composers, old-time fiddle tunes, Argentinean trip-hop, or top-shelf bar bands. Said The Irish Times: "Peter Mulvey is consistently the most original and dynamic of the US singer-songwriters to tour these shores. A phenomenal performer with huge energy, a quick fire, quirky take on life, and an extraordinary guitar style. A joy to see."
©Copyright St. Clair Productions