Eclectic Music and More
Tickets
Tickets purchased within 7 days of concert will be held at the door.
Tish Hinojosa
Mexican American original and traditional songs
Friday, November 6, 2015 • 8pm
Tickets: $20/advance, $22/door, $10/teens 12-17,
children under 12 are free with paying adult.
Unitarian Fellowship, 4th and C Streets, Ashland
Ballet Folklórico Ritmo Alegre, opens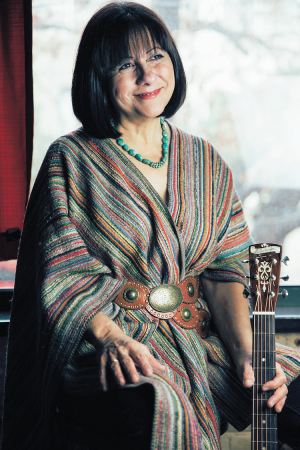 Tish Hinojosa has drawn numerous critical accolades for her borderless approach to music, blending Mexican folk and country music with a modern singer/songwriter sensibility and touches of pop. Born Leticia Hinojosa in San Antonio in 1955, Hinojosa's parents were Mexican immigrants, and she soaked up their music as well as the area's country sounds and the socially relevant rock & roll of the '60s. She started playing guitar as a teenager, singing folk and pop songs in local clubs; she also sang commercial jingles for a Spanish-language radio station, and recorded a few Latin pop songs for a local label as well. In 1979, she moved to Taos, NM, and eventually landed a job singing backup with Michael Martin Murphey. In 1983, she relocated to Nashville and tried to make it as a singer and/or songwriter, but found that she didn't fit the mold of what record companies wanted, despite recording a one-off single for Curb ("I'll Pull You Through"). In 1985, she moved back to Taos, and two years later completed the self-released cassette Taos to Tennessee. In 1988, she moved to Austin and hit the city's thriving roots music scene, where she knew her distinctiveness would find a better reception.
Hinojosa quickly landed a deal with A&M, and in 1989 she issued her official debut album, Homeland, which received highly complimentary reviews. Her next effort, Culture Swing was released by the respected roots label Rounder in 1992 to even greater acclaim; thanks to its free-thinking musical cross-pollination, the National Association of Independent Record Distributors named it Folk Album of the Year.
Hinojosa's releases explore a wide variety of styles, ranging from the perfect balance of country, folk, and Latino elements on the award-winning Culture Swing and the collection of Mexican love ballads and border songs on the all Spanish Frontejas (1995), to the delicate mysticism of Dreaming From the Labyrinth (1996) and the joyful optimism on her bilingual children's record Cada Niño/Every Child (1996). Sign of Truth (2000) added yet another facet to Hinojosa's sound, revealing a more personal, intimate, and independent side.
With accolades that include playing at the White House at the invitation of President Clinton and Hillary Clinton, Linda Ronstadt recording her own version of Tish's song "Donde Voy," and teaming up with artists like Joan Baez, Kris Kristofferson, Dwight Yoakam, Nanci Griffith, Pete Seeger, Flaco Jimenez, and Los Lobos, Hinojosa's sound has an undeniable and far-reaching appeal.
Hinojosa spent several years living, writing, composing, collaborating, and exploring in Hamburg, Germany. She released two CDs there: Our Little Planet – a self penned, 12-song collection of traditional bluegrass and her trademark sound of contemporary folk and Tex-Mex; and her most recent album, After the Fair. She now lives again in Austin, TX.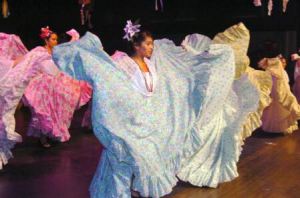 Ballet Folklórico Ritmo Alegre is a dance troupe that specializes in the teaching and performing of regional folk dances from all over Mexico. Dance classes for students ages 5- 18 are taught at four sites around the Rogue Valley of Southern Oregon including Medford, Ashland, Talent and White City. The group has a Youth Performance Company composed of advanced dancers who perform regularly in the community for festivals, parades, schools and other events. Ballet Folklórico Ritmo Alegre is a participant in the annual Danzantes Unidos Festival in California and has close ties to master dance instructors from Guanajuato, Mexico and Phoenix, Arizona.
Ballet Folklórico Ritmo Alegre had its start as a Latino student project at South Medford High School in 1992 and became an ongoing part of the school's Latin Reflection club in 1994. In 2006 the group became part of the local non-profit Multicultural Association of Southern Oregon. Now Ballet Folklórico Ritmo Alegre plays an active role in the community, empowering children and youth through dance, preserving folk tradtion and serving as an ambassador for the Latino community to build cultural bridges and celebrate diverse cultures.
Workshop
Tickets
Tickets purchased within 7 days of concert will be held at the door.
Climbing out of the Mexican American Box and Hitting the Glass Ceiling: The challenges faced by Mexican American musicians, actors, writers, and artists trying to make it in mainstream culture.
Saturday, November 7 • 10 a.m.-noon
Place: Unitarian Fellowship, 4th and C Streets, Ashland
Cost: $25
Tish will share anecdotes from her own life as a Mexican American songwriter trying to make it in mainstream music. Her insights are applicable to anyone trying to sell their music to American music corporations.