Tickets
Tickets purchased within 7 days of concert will be held at the door.
Eclectic Music and More
Rabbi Andrew Hahn—
the "Kirtan Rabbi"
A New Spiritual Voice Through Music

w/Benjy Wertheimer on Tablas
Bibi McGill on Guitar
Saturday, November 14, 8 p.m.
Tickets: $20/advance, $22/door, $10/teens 12-17;
Children under 12 are free with paying adult.
Venue: Havurah Shir Hadash, 185 N. Mountain, Ashland
Known as the "Kirtan Rabbi," Andrew Hahn, Ph.D., brings together two ancient traditions to form a new, spiritual voice through music. Blending sacred Indian chants with Hebrew texts, he creates a unique, mystical expe- rience touching religious seekers everywhere.
Hahn introduces Jewish philosophy to a wider audience by leading call-and-response concerts at yoga studios and synagogues around the country.
Hahn, an ordained Reform Rabbi from the Hebrew Union College – Jewish Institute of Religion who also holds a doctorate in Jewish philosophy from the (Conservative) Jewish Theological Seminary, is no stranger to the power of music. A classically trained guitarist at the Carnegie Mellon School of Music, he sang in opera as a child. Looking for a way to deepen his own spirituality and reach out to people feeling disconnected, Rabbi Hahn, inspired by the great theologian Rabbi Abraham Joshua Heschel's words, "first we sing, then we believe," developed a new Jewish approach to devotional practice based on an Eastern method—Hebrew Kirtan. Breaking down the barrier between leader and listener, kirtan, a form of call and response singing, heightens participation, communal feeling and connection to the Divine. "God is discovered in what we do together, particularly when we mine the inner landscape musically," says Hahn.
Hahn has appeared at such places as Smith College (Northampton, MA), Franklin and Marshall College (Lancaster, PA), The Woodstock Jewish Congregation (Woodstock, NY), Colorado Limmud (Keystone, CO), Congre- gation Beth Shalom (Pittsburgh, PA), the Jewish Community Center (JCC) of Baltimore (Baltimore, MD), On the Wings of Ecstasy Festival (Nassau City, Bahammas) Bhakti Fest (Joshua Tree, CA), Moksha Festival (Topanga, CA) and the Integral Yoga Institute (New York, NY).
In addition to facilitating Kirtan, Rabbi Hahn is a resident scholar at CLAL The National Jewish Center for Learning and Leadership, a leadership training institute, think tank and resource center and serves on the Rabbinic Advisory Board for Kehilat Romemu, an independent, progressive congregation in Manhattan. He teaches Jewish text classes at various adult venues and rabbinical schools around the country. He is also a martial arts practitioner, specializing in a form of tai chi which he imbues with Jewish content.
"The combination of music and religious ritual is well known: church choirs, stirring Gospel singers in black congregations, Sufi music, the earth-shaking song of the Tibetan monks, the almost intoxicating song of mystical unification which bursts forth from the temples of the Sikhs, and the holy drums in Afro-Caribbean rituals. The place of music within Judaism is also not absent, and there is space in it for cantors, niggunim and chants. And if it is possible to take what's good from all worlds—well, why not? Meet Rabbi Andrew Hahn, known simply as Reb Drew, a New York rabbi who does kirtan." —Ma'ariv
Hahn has three musical CDs: "Kirtan Rabbi: Live!," recorded at New York's Congregation B'nai Jeshurun on Manhattan's Upper West Side, "sets the standard in Hebrew Kirtan" (Chant Artist David Newman - Durga Das); the studio production, "Achat Sha'alti" (one thing I seek) is "inspiring from start to finish...Exquisitely simple in its message of love, longing and celebration" (Rabbi Shefa Gold); and his recently released Non-Duel, which combines electronica and Hebrew Kirtan.
Benjy Wertheimer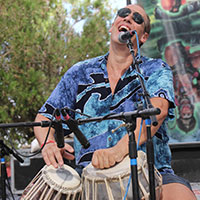 An award-winning musician, composer, vocalist and multi-instrumentalist equally accomplished on tabla, congas, percussion, esraj, guitar, and keyboards, Benjy Wertheimer has performed and recorded with such artists as Krishna Das, Deva Premal and Miten, Jai Uttal, Walter Becker of Steely Dan, virtuoso guitarist Michael Mandrell, tabla master Zakir Hussain, and renowned bamboo flute master G. S. Sachdev. He has also opened for such well-known artists as Carlos Santana, Paul Winter, and Narada Michael Walden. Benjy is a founding member of the internationally acclaimed world fusion ensemble Ancient Future. Benjy has been a student of Indian classical music for over 25 years, sitting with some of the greatest masters of that tradition, including Alla Rakha, Zakir Hussain, Ali Akbar Khan and Z. M. Dagar.
Bibi McGill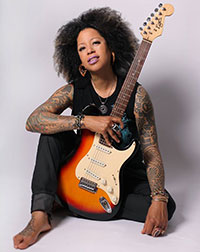 Bibi McGill grew up in Denver and began taking guitar lessons at age 12, when she was nicknamed Bibi as a tribute to blues musician B. B. King. She graduated from the University of Colorado with a degree in music arranging, moved to Los Angeles and began playing gigs and modeling, appearing in commercials for Heineken, Motorola and Nike. In 2001, she was hired by Pink for her tour and appeared with her on Saturday Night Live, Total Request Live, the Billboard Music Awards, The Tonight Show and Top of the Pops. After touring with Pink, she joined Paulina Rubio's band on her tour with Enrique Iglesias.
After several years out of the music industry, McGill joined Beyonce's 10-person, all-female band the Suga Mamas in 2006 as lead guitarist, later becoming musical director. With Beyonce's band she has gone on tour around the world and played at the Glastonbury Festival in 2013, at the White House for Michelle Obama, and at the Super Bowl halftime show in 2013, performing a "pyrotechnic guitar solo."
McGill currently lives in Portland, where she also works as a yoga teacher and has a line of kale chips.
Workshop: Deepening Your Experience of Kirtan
Tickets
Tickets purchased within 7 days of concert will be held at the door.
Sunday, November 15, 10 a.m.–1 p.m.
at Temple Emek Shalom
1800 E. Main, Ashland
Cost: $45/adv, $50/door
After attending Sanskrit kirtans led by inspired musicians such as Krishna Das, Wah!, Deva Premal and Miten, and others, it occurred to Rabbi Hahn that the kirtan form would work very well with the Hebrew language. Changes effected by open vowels to make soft consonants render Hebrew wonderfully sing-able. Several scientific studies have numbered Hebrew among one of a handful of "vibrational languages."
Kirtan Rabbi's Hebrew kirtans tend to use niggunim and zemirot (tunes and songs) which already feel familiar — even if you've never heard them before! He uses the kirtan form — call-and-response — in traditional Jewish modes of notation. These are drawn from both European and Eastern sources, as well as from contemporary composers. He also tends to set the chants in non-Western modalities. Kirtan Rabbi plays a harmonium and uses it as a kind of movable background drone.
Along with the music, Rabbi Hahn will pepper the workshop with helpful meditation techniques learned from his martial arts practice, along with short teachings, which explain the source and meaning of the language.