Tickets
Tickets purchased within 7 days of concert will be held at the door.
Eclectic Music and More
Pir Shabda Kahn
Vocal Indian Ragas

w/Benjy Wertheimer on Tablas
Deepak Paramashivan on Sarangi
Friday, March 4, 2016 • 8 p.m.
Tickets: $20/advance, $22/door, $10/teens 12-17,
children under 12 are free with paying adult.
Venue: Ashland Community Center, 59 Winburn Way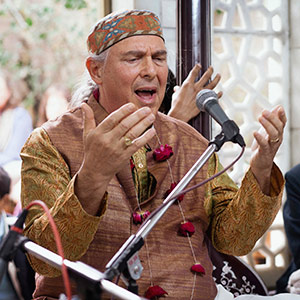 In 1972, Shabda was initiated by Pandit Pran Nath, the Master North Indian Classical Vocalist and began the daily practice of Raga singing in the Kirana style. Pandit Pran Nath, a Sufi mystic, requested that Shabda carry on the 800-year-old oral transmission under the name, the Chisti Sabri School of Music, now an umbrella for teaching vocal music and performing Raga.
Shabda has appeared as a musician in concerts ranging from Visions for a Perfect World at New York's St John the Divine Cathedral, for His Holiness the Dalai Lama, for New Music America in Chicago, at Delhi University Music School, and at Shivaratri Festival in New Delhi. He is one of a handful of Americans who have dedicated themselves to carrying on the legacy of the treasure of North Indian classical vocal music.

Shabda Kahn has been a disciple of Sufism since 1969. He is a direct disciple of Murshid Samuel L. Lewis (Sufi Ahmed Murad Chisti), and he worked closely with the great American mystic Joe Miller. Shabda is currently the Pir (spiritual director) of the Sufi Ruhaniat International and the director of the Chisti Sabri School of Music.
After living in community with Baba Ram Dass in the East Coast, Shabda met Murshid Sam and moved to San Francisco in 1969. In the fall of 1970, Shabda had the good fortune to travel with Murshid Sam for five weeks as his personal assistant on the East Coast, which helped deepen his relationship with his teacher and the Path. He received his spiritual name from Pir Vilayat Inayat Khan in 1971, after Murshid Sam's passing
In 1984, Shabda became a disciple of the illustrious 12th Tai Situpa Rinpoche, a venerated Tibetan Buddhist incarnate lama of the Kagyu Lineage.
After Murshid Sam's passing, Shabda was one of Pir Moineddin's secretaries and helped lead the Wednesday night dance meeting, eventually taking over the meeting when Pir Moineddin's health deteriorated. As Pir Moineddin's condition worsened, he requested that Pir Vilayat Khan initiate Shabda as a Sheikh. This occurred on February 5 1977, at the tomb of Hazrat Inayat Khan in India. Pir-o-Murshid Hidayat Inayat Khan of the International Sufi Movement initiated Shabda as a Murshid.
As Pir of the Sufi Ruhaniat International, Shabda directs the Jamiat Khas (the Ruhaniat leader circle), directs the SRI Board of Trustees, and is the spiritual director for the Dances of Universal Peace worldwide. He has a regular zhikr meeting in Marin County, California, and travels the world throughout the year spreading the Sufi Message of Love, Harmony and Beauty. He brings warmth, humor, and clarity in his efforts to help seekers on their path to awakening.
Benjy Wertheimer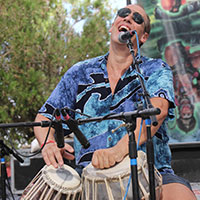 An award-winning musician, composer, vocalist and multi-instrumentalist equally accomplished on tabla, congas, percussion, esraj, guitar, and keyboards, Benjy Wertheimer has performed and recorded with such artists as Krishna Das, Deva Premal and Miten, Jai Uttal, Walter Becker of Steely Dan, virtuoso guitarist Michael Mandrell, tabla master Zakir Hussain, and renowned bamboo flute master G. S. Sachdev. He has also opened for such well-known artists as Carlos Santana, Paul Winter, and Narada Michael Walden. Benjy is a founding member of the internationally acclaimed world fusion ensemble Ancient Future. Benjy has been a student of Indian classical music for over 25 years, sitting with some of the greatest masters of that tradition, including Alla Rakha, Zakir Hussain, Ali Akbar Khan and Z. M. Dagar.
Deepak Paramashivan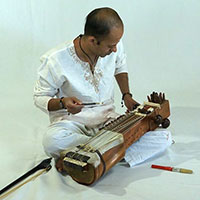 Dr. Deepak Paramashivan Kaundinya was born into a family of musicians. His music lessons began at age five. He pursued advanced lessons in carnatic vocal and veena under the tutelage of his father Sangeetha Kala Jyothi in the traditional style of Bidram Krishnappa dynasty of music. In addition, he learned sitar from Pt. Jayant Kumar Das of Kolkatta, and Hindustani vocal and Sarangi from Ustad. Faiyaz Ahmed Khan of Dharwad. Currently, Deepak is a disciple of sarangi maestro Padma Vibhushan Pt. Ram Narayan. Deepak is one of the only two sarangi players in the entire south India. He had a brief stint in the cinema field where he worked as an associate music director for kannada cinema and tele-serials. He extended vocal support and played sitar, veena and sarangi for movies, tele-serials, dance ballets and other musical projects. On sarangi he has given numerous solo performances, accompaniment support to leading vocalists and provided lehra saathi for tabla and kathak dance shows. He has given performances under the aegis of various organizations in India, USA, Europe and South Korea.
Workshop
Natural Breath of the Heart: Cultivating the Inner Life in Harmony With the Outer Life
Workshop Tickets
Tickets purchased within 7 days of event will be held at the door.
Saturday, March 5 and Sunday, March 6
10 a.m.-5 p.m.
Cost: $165 (includes lunch and Saturday evening's Zikr)
Saturday or Sunday -$90/day
Ashland Community Center
An Evening of Zikr
Zikr Tickets
Tickets purchased within 7 days of concert will be held at the door.
Saturday, March 5 7:30 p.m. $20/door
Ashland Community Center
The Arabic word Zikr is translated as "Remembrance." Through the rhythmic repetition of the names or attributes of God, we remember our Divine nature.

©Copyright St. Clair Productions