Tiller Music and Food Festival

Tiller Music and Food Festival
Tiller, Oregon
Dahack Gardens in the meadow behind the Elk Creek Cafe
Sunday, September 3, 2006 (Labor Day Weekend) • 12-6PM
Barbecue by The Good Cowboy (separate charge)
Drinks and Deserts available
Bring your lawn chairs and blankets

Music by:
Golden Bough -- Celtic Rooted in the traditional Celtic music of Ireland and Scotland (as well as Wales, Cornwall, The Isle of Man, French Brittany and Spanish Galicia), these modern day minstrels have expanded upon the ethnic styles through the development of intriguing arrangements and original compositions. In this way, they have created a sound unique unto themselves. Since their formation in 1980, Golden Bough has traveled great distances to numerous countries, to bring their music to enthusiastic folk fans the world over. Backing themselves on an array of acoustic instruments, including; Celtic harp, guitar, octave- mandolin, mandolin, accordion, penny-whistle and bodhran, they blend their voices in pristine harmony and feature haunting solo vocals. In the recording studio, as well as on stage, Golden Bough captures the essence and joy of traditional music.
www.goldenboughmusic.com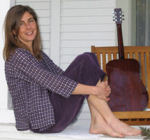 Laura Kemp -- Since 1990, Laura has been a fixture on the Eugene, Oregon folk scene, and over the years she has performed in a number of configurations: captivating Northwest audiences as a solo artist, her unique brand of acoustic poetry earning her comparisons to Bob Dylan and Nanci Griffith; playing to sold out audiences at the W.O.W. Hall as part of Eugene's power girl group, Babes With Axes; as the front person for the Laura Kemp Band, with Brian West and T.R. Kelley on drums and bass; as the host of a writers in the round at Sam Bond's Garage, along with Eugene's folk treasure Peter Wilde; at the historic Inn of the Beginning in Cotati, CA with members of the Bay area's Little Big Band; on the Main Stage of the Oregon Country Fair with Mare Wakefield and T.R. Kelley; or paired down as a duo with Memphis player, Roy Brewer on fiddle and mandolin.
Her dynamic performing style, refined confidence, and uncompromising frankness on stage have repeatedly earned her "Favorite Female Performer" honors at the WOW Hall in Eugene, "Best Musician" from the Eugene Weekly, "Best Local Band/Musician" from In Town, and "Queen of Eugene Folk" by the Statesman Journal, Salem. The Willamette Week (Portland) says "the singer and guitarist plays with a breadth rarely found in regional acts, picking the strings of her acoustic guitar with an earnestness befitting her emotional delivery."
"Performer extraordinaire, Laura Kemp (has the) ability to make an audience chuckle, tear up, and feel an instant connection with her lyrics - all in the course of one song." - San Francisco Bay Guardian
www.laurakemp.com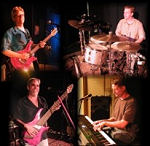 Rogue Suspects -- Get ready to dance to the tunes of the Rogue Suspects with Dean Angermeier on keyboards/vocals, Greg Frederick on bass and vocals, Dirk Price on guitar and vocals, and Gary Keeney on drums and percussion. A Rogue Valley favorite, the band has opened for nationally touring groups such as James Brown, Pablo Cruise, Norton Buffalo, Nina Story and Danny and the Juniors.
Members of the Rogue Suspects are all experienced musicians. With 35 years of touring and recording Greg Frederick has appeared with some of Rock & Roll and Blues who's who. He is a veteran of Blues and Jazz Festivals nationwide, including featured artist at The Monterey Blues Festival, and was a regular at the San Francisco and Monterey Jazz Festivals. His recording and touring experience include support of 3, million sellers, top forty hits and as a side-man on numerous national television programs and commercials.
With 30 years of experience, Dirk Price has played venues around the world. He has recorded and composed music for TV's "Entertainment Tonight", Dick Clark Productions, "One Life to Live"," The Young and the Restless" and PBS documentaries. He was Musical director and guitarist for a recent Ink Spots and Coasters concert tour, has recorded and performed with members of the Larry Carlton band, Johnny Mathis, The Mamas and The Papas, and Manhattan Transfer.
Gary Keeney has a degree in percussion performance from Southern Oregon University. He performs in numerous groups in the Rogue Valley including Elijah and Rogue Suspects. He is a top call recording and live drummer and consistently amazes everyone he plays with.
Dean Angermeier has been playing keyboards and bass in the Rogue Valley since 1999. Other than Rogue Suspects, he has performed with Borderline, The HorseFeathers, and Switch Trio among others. He has appeared on recordings with The Difference, Dig/TopKat, Borderline, and Moonraiser.
www.roguesuspects.com