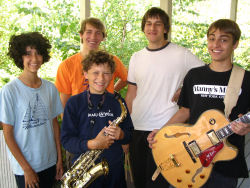 Featuring some of Rogue Valley's finest young musicians:
Gabe Young, saxophone
Sophia Javna, vocals
Logan Shrewsbury, percussion
Rafferty Swink, keyboard
Wes Wade, guitar
Kristina Meyer, bass
Gabe Young, born and raised in Ashland, has been blowing a horn since he was two years old. Currently a seventh grader at Ashland Middle School, the 13 year-old saxophonist has been wowing audiences throughout the Rogue Valley with his stellar musicianship and eclectic musical tastes. His first love is jazz sax (alto and soprano) and he has a particularly soft spot for the blues. His other tastes include klezmer, Latin and popular music.
Gabe has performed, among other venues, at the Avalon Bar and Grill in Talent, The Bull's Eye Bistro, Ashland Armory, Oregon Chocolate Festival, Rogue Valley Crafters Guild, Ashland Growers Market, Briscoe Art Wing, and several wineries, churches and synagogues throughout the Rogue Valley, as well as gigs in Squaw Valley and Santa Monica, California. He has been featured in the Ashland Daily Tidings and in an award winning video from the 2007 Ashland Independent Film Festival ("The Blender Blues").
He has appeared with famed saxophonist George Young (no relation), Jerry Attrick & The Pacemakers, The Bar Misfits Klezmer Band, The Blenders Blues Band, Ashland Middle School Jazz Band, and many esteemed musicians in the Rogue Valley. He comes from a musical family, and currently plays with the Young Family Trio with his father and older sister. He is also principal oboist for the Youth Symphony of Southern Oregon.