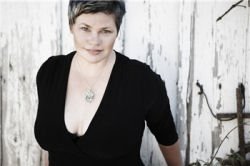 "Karen Lovely is the most talented singer I have been associated with since my early days with Robert Cray."
- Dennis Walker, multi Grammy and Handy award winning producer/songwriter
"her voice cracks my heart in half..."
- Chris Conrad, Mail Tribune
Karen Lovely sings the blues - with an emotional intensity and vocal dexterity that will knock you off your feet. She began singing in the church choir at age 10 but didn't start her professional career until years later, when her strong vocals captivated a London nightclub owner who heard her singing at a friend's wedding and hired her on the spot. After a 15 year hiatus from the music business, Karen hit the Southern Oregon music scene with her own band in September 2007. She has been wowing fans ever since.
The Karen Lovely Band played to a standing ovations at the 2008 Rogue Valley Blues Festival and at the Oregon Shakespeare Festival's Green Show, in July, 2008. In August, Karen dazzled audiences in Los Angeles while sharing the stage with LA blues legend B.B. Chung King and the Buddaheads, and at the Camelot Theatre's Spotlight on the Blues program in September. Karen Lovely opened for DK Stewart and DK-4 at the Jackson County Expo in October.
Karen's stunning debut CD, LUCKY GIRL, features songs written and produced by multi Grammy and Handy award winning producer, Dennis Walker (Robert Cray, B.B. King, Bettye LaVette, Claudette King) and Grammy nominee producer/songwriter/multi-instrumentalist Alan Mirikitani (B.B. Chung King & the Buddaheads, Gentleman's Blues Club). LUCKY GIRL is an earthy and heartfelt blend of classic blues, R & B, and soul - and in addition to the usual band lineup, features guest performances by harp player, Andy Just (Ford Bros), drummer Lee Spath (Robert Cray/Maria Muldaur), bassist Richard Cousins (Robert Cray/Van Morrison/B.B. King/John Lee Hooker) and keyboard player Jim Pugh (Robert Cray Band).
LUCKY GIRL is currently getting airplay on Southern Oregon's JPR, and Bill Rhoades Blue Monday radio show on Portland's KBOO 90.7 FM.
For more information, visit www.karenlovely.com and myspace.com/karenlovelysingstheblues