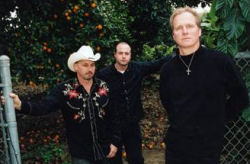 Tim "Too Slim" Langford, with his band the Taildraggers, have created an eclectic style of Roots-Rock, Americana, and Blues, that has become a genre all its own. Too Slim's ever evolving musical direction cannot be classified into any box or category. The eclectic nature of the band allows Too Slim and the Taildraggers to easily cross-over and appeal to audiences of various musical tastes.
This award winning band has been voted the Best Regional act 10 times by the Cascade Blues Association, the largest organization of it's kind in the USA. Too Slim and the Taildraggers have multiple awards from various NW Reader's Polls and other NW Blues Societies for Best Band and Best Album. Too Slim and the Taildraggers are in the Hall of Fame in three NW Blues Societies.
Founding member Tim "Too Slim" Langford has won multiple individual awards as Best Guitarists, Best Slide Guitarist, and Best Songwriter.
Too Slim's music style ranges from down home blues , funky blues rock, americana, southern swamp rock, and instrumental guitar styles. The band, led by singer, songwriter and guitarist, Tim "Too Slim" Langford, is backed by the top shelf rhythm section of bass man Dave Nordstrom, and drummer Rudy Simone.
The band's devoted fan base has grown over the years into a National and International following. Experiencing a Too Slim and the Taildragger concert is like taking a journey through the history of American music.
For more information, visit www.tooslim.org.