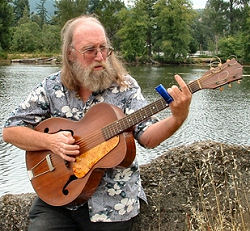 Pete Herzog
Pete Herzog plays dirt road country blues in a style uniquely his own. His music reaches back to an ancient place. "I've always been attracted to a common sound that reaches back through the ages and touches all people at a basic level. Even when composing a contemporary song, I strive to make connections with those older places and feelings."
Pete plays a variety of blues way beyond the standard 12 bars and 3 chords, including roots music from the times when European and African rhythms were combined. He plays fingerstyle guitar with a flat pick in an exciting, expressive and unusual manner, using several different guitars with different modal tunings.
Pete has spent years learning his craft, not only from other musicians and recordings but from life. He spent time working on the railroad as a gandydancer in a traveling steel gang, learning arhoolies and steel driving songs sung as they were originally given voice. He learned "Linin Track" while lining track and learned call and response style songs while driving rail road spikes into hard wood ties.
Finding bands had too much drama, Pete did some solo performing before becoming disillusion with playing out. Instead, he spent his time pickin on the porch. Now he's back performing and with a new CD Homestyle.
For more information, visit peteherzogmusic.com.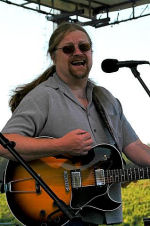 Jerry Zybach
An accomplished vocalist, guitarist, bassist, band leader, songwriter, arranger and producer, Jerry Zybach continues to stretch and grow as an artist, with multiple music projects in genres from blues to R&B, rock, Americana, country and bluegrass--primitive through progressive. Ever think you'd hear blues slide ukulele? How about screamin' electric slide on a cigar box guitar? He makes his shows unique, fun and deeply entertaining.
Zybach builds and plays cigar box guitars—instruments from "back in the day", when musicians built stringed instruments out of whatever they could find because they couldn't afford "store bought" ones. He also plays a wide array of not so everyday instruments--diddlybows, dulcimers, ukuleles and a silverware box stand up bass, to name a few.
For more information, visit stagehogs.com.
Aireene Espiritu and Rick Di Dia
Poaching from the blues, jazz, folk ballads, stomps, bluegrass and hollars, Rick and Aireene pick, strum, stomp, slide and sing their own brand of stripped down Americana. By taking pieces of the past; your story, my story, our ancestor's stories, they paint pictures of places and people's lives, the day-to-days, little stories from different times and cobble them together to make the old sound new in an old sort of way.
Rick plays in various tunings and has developed a unique lap-style playing method that results in an intriguing array of chords, single note lead runs and sliding that looks as if he is chasing notes from one end of the neck to the other. Aireene, a native of the Philippines, plays a 1950's Martin tenor ukulele, and crafts simple yet hauntingly beautiful songs that are highlighted by her deep and down-to-earth vocals.
Individually, they deliver songs that ignite the fire of old memories and carries the listener to forgotten places. Together, their rich mixture of personalities, cultures and musical approaches – one simple and the other complex - is precisely what makes their blend of music sing like no other. They draw their strength from a wealth of American musical traditions but conjure up their own route into timeless storytelling.
Spending the last year playing consistently throughout the San Francisco Bay Area, along with jaunts to Los Angeles, New York, New Jersey and Philadelphia, Rick and Aireene are encouraged by the response. They have played at venues such as The Bitter End, CBGBs, The Fillmore, Freight and Salvage, and The House of Blues. Together they have supported and/or played with such acts as Rogue Wave, My Morning Jacket, Carolina Chocolate Drops, Rickie Lee Jones, Willie Nelson and Odetta.
For more information, visit www.myspace.com/rickaireene.