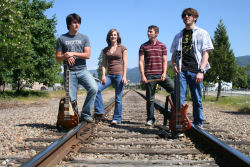 This exciting young band from Wilderville, Oregon consists of four members: Robert Biscarret, 18, on guitar and vocals; Lenea Patterson, 15, on keyboards and vocals; Kyle Camilleri, 18, on drums and Jeff Morgan, 16, on bass guitar. Since forming late in 2006, they have opened for country music star Hal Ketchum, and in January of 2007, they won first place in the under 21 band contest at the Seventh Annual Rogue Valley Blues Festival in Ashland, Oregon. There they competed against other bands from as far away as California. They received a lot of positive feedback from the fans and judges, which included among other notables, blues legend, Hawkeye Herman. In March of 2007, they released their first CD "Wishing Our Lives Away".
Last summer, Yesterday placed second in the Jackson County Fair's Fairapalooza band contest.
Yesterday started when Lenea and Robert met. With music being a common bond between them, they decided to start their own band. Lenea had been singing for over ten years, getting her inspiration from Billie Holliday and Koko Taylor. Robert taught himself to play guitar, listening to the likes of Muddy Waters and B. B. King. Both of these youngsters were anxious to take their music to the next level, and after adding Jeff and Kyle, the magic really started. They practice together every week in a 100 year old log cabin, playing their own, original music, while at the same time managing to throw in a few of the more classic blues songs.
For more information, visit www.myspace.com/yesterdaylcp