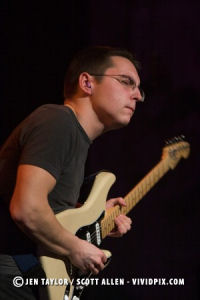 This is The Ben Rice Blues Band's third time performing at the Rogue Valley Blues Festival. Why? Because they are just fabulous! Not only are they great musicians, they know how to put on a great show (though Dan Rice standing in the middle of the audience on top of the plastic tables blowing his saxophone does get this producer a bit nervous). The band also has been seen in this area performing for the Medford Parks and Recreation Bear Creek Park summer concert series in 2006 and 2007 and for the Grants Pass Parks and Recreation summer concert series in 2007.
In 2006, the Ben Rice Blues Band won the Journey to Memphis Competition at the Waterfront Blues Festival in Portland, Oregon, beating out 19 veteran bands. This earned them a spot in the 2007 International Blues Challenge sponsored by The Blues Foundation in Memphis, Tennessee. They were semi-finalists at their designated venue and finalists in the King of Beale Street competition at the same event.
The band received five Cascade Blues Association Muddy nominations in 2005. It has three CD's of original blues music. Their sound is a mix of Delta, Chicago and Jump Blues with a touch of Jazz to spice it up.
Singer and songwriter Ben Rice started playing guitar at 7 years old. He had already played rock clubs in Seattle and Portland by the age of 12 in a family Rock band. Now at 19, he is a phenomenal guitar player, band leader, and performer. He was nominated by the Cascade Blues Association from Portland Oregon for three Muddy Awards for best electric guitar player two years in a row and for best vocals. Ben attends University of Oregon in Eugene where he is a guitar performance major and is playing trombone in the jazz ensemble.
Mac Potts, 15, on keyboards, is a rising star not only in the Pacific NW but nationally. Mac is blind and not only plays with Ben but also performs with other well known artists living in the NW and can be scene often playing with New Orleans native Reggie Houston. Mac has traveled around the country playing music. He recently performed at the New Orleans Jazz and Heritage festival where he jammed with the Storyville Stompers and Harry Connick Jr. Mac was recently asked to play at the Cincinnati Blues Festival specifically on the Boogie Woogie Stage.
Daniel Rice, 16, on his Blues Harp, Baritone and Alto Sax, puts on a show that is intense and very entertaining. At the age of 17, his screaming sax solos have earned him standing ovations around the country from Memphis Tennessee to Seattle Washington.
Alex McEntee on bass and Alex Ankeny on drums complete the band.
For more information, visit www.myspace.com/benriceblues