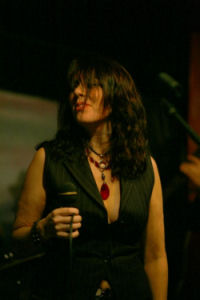 AnnieMac was started by Joe Diehl and Annie McIntyre in January of 2006, years after the musicians, who had played together in one of McIntyre's former Bay Area bands, rediscovered each other in Ashland, Oregon.
"We recognized that Southern Oregon was missing the type of fun, funky, body-moving music rooted in Stax Volt-era rhythm and blues," says Diehl.
To fill the need, they brought together a group of exceptional musicians that rapidly developed a one-of-a-kind take on old-school riffs, jams and rhythms. Covers of danceable classics like David Lindley's "Mercury Blues" and Etta James' "99 and a Half" are added to the band's ever-increasing lineup of originals, capitalizing on McIntyre's often soul-searching and personal lyrics.
The lead singer's genre-spanning songs are passionate, sensual gems rounded out by the band's tight vocal harmonies, synergistic playing and Roots Rock & Soul grooves.
"Every band member contributes to the arrangements and the result is a collection of songs that have a lush texture and polish that reflect the band's combined history," McIntyre explains.
Making great music with powerful, timeless songs that lead straight to the heart, AnnieMac has touched many.
"It's sort of a simmered stew of past and present, of body, soul and hard pavement," says McIntyre. "We sing stories that connect the audience to themselves."
AnnieMac's first CD, The Wait Is Over, will be available on CD next spring. The band recorded at RadioStar studios this summer, under the tutelage of legendary guitarist and producer Jeff Pevar and producer and studio owner Sylvia Massy Shivy who has recorded and/or mixed tunes for such diverse artists as R.E.M., Tom Petty and the Heartbreakers, System Of A Down and the late Johnny Cash. Rogue Valley web designer Opie Snow will unveil the band's website - AnnieMacMusic.com - mid September of this year.
Annie continues to sing, write and travel with her band spreading her message of joy and empowerment to body and soul.
Band Members:
Annie McIntyre: Lead vocals, songwriter.
Joe Diehl: Guitar, backing vocals.
Brent Norton: Guitar, backing vocals.
Allen Crutcher: Keys and harp, backing vocals.
J. Jorgensen: Bass, and backing vocals.
Michael Saint John: Drums.
For more information, visit www.myspace.com/anniemacmusic