Sista Monica
Main events at
Historic Ashland Armory
208 Oak St., Ashland
Saturday, January 13, 2007
Doors open 6PM for dinner
Music begins 6:30PM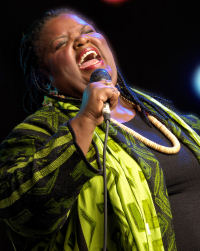 Sista Monica Parker – singer/songwriter, record producer and dynamic performer is one of the most sought after and admired women Blues, Soul and Gospel singers on the international music scene today. On December 16th, 2005 she was nominated for a W.C. Handy Blues Award in the category of "BEST SOUL BLUES FEMALE ARTIST OF THE YEAR" by The Blues Foundation in Memphis, TN.
Sista Monica has received rave 5 star reviews from Blue Revue Magazine, Downbeat, All Music and dozens of blues societies nationwide for her latest Mo Muscle Records CD release "Can't Keep A Good Woman Down". It is professed to be a radio programmer's favorite. Sista Monica wrote 11 of the songs with her co-producer and piano/organ player Danny "B". The disc has 13 tracks. The two additional tracks are "Funny How Time Slips Away" by Willie Nelson and "Change Gonna Come" by Same Cooke.
Born and raised in Gary, Ind., Sista Monica began putting down her gospel roots singing and touring with her church's gospel choir. She was heavily influenced by The Rev. Al Green, Aretha Franklin, Mavis Staples and the Staples Singers, Jackie Wilson and Sam Cooke. After some college, Monica enlisted in the U.S. Marine Corps. Returning to civilian life, Monica worked in the corporate world. In 1992, this all changed when she left the corporate world to begin performing full-time. Almost immediately she was sharing local stages with Mavis Staples, Gladys Knight, Taj Mahal, Luther Allison, Little Milton, Koko Taylor, Etta James, Bobby "Blue" Bland, and other blues and R&B greats.
In 1995, Monica released her debut CD, "Get Out Of My Way!". Her second CD "SISTA MONICA" was released in 1997. Comparisons to Aretha Franklin, Etta James, Big Maybelle, James Brown, and Koko Taylor emerged from her compelling stage presence and powerful gospel- influenced original blues. Accolades and industry recognition soon followed: 1998 W.C. Handy Award Nominee for "Best Contemporary Blues Female;" 1998 California Music Award Winner for "Most Outstanding Blues Artist;" and "Most Outstanding Blues Artist for the Year 1998" presented by the BAMMIE Awards. In 1999 and 2000, Monica was also nominated for "Best International Female Performer in the United Kingdom" sharing the category with Irma Thomas, Etta James, Koko Taylor, and Angela Walker.
More CDs followed. However, in 2002, Sista Monica was diagnosed with a rare form of breast cancer. Determined to Determined to sing and live out her purpose, Monica underwent more than eighteen months of aggressive chemotherapy, surgery, radiation and physical therapy. The result was a complete removal of the tumor but resulted in severely damage nerves and muscles in Monica's entire upper right side. Eventually with her determination, faith, and patience, Monica regained mobility in her microphone-holding arm and hand, restoring it back to the level of her voice and spirit.
In 2004, Sista Monica returned to compile several Soul and Jazz standards remembering Ray Charles and Dinah Washington in a healing and inspirational CD "Love, Soul & Spirit vol. 1".
Sista Monica is a soul survivor. Straight through the storm, she kept singing at conferences, festivals, and weddings, and even in the hallways of the UCSF hospital during treatments. She contends "It was surely the music and the grace of God that kept me alive!" And her new record is certainly a testament to that.
In her aptly titled new release "Can't Keep A Good Woman Down", Sista Monica gives a renewed meaning to blues as healing music. Surviving has given new power and freedom to her lyrics and each track evokes the blessing she feels to be able to write, sing, produce and perform music once again. "It's a comeback album," she says. "The focus and the theme is speaking to the truth — my truth. It's autobiographical, current and in your face, offering hope and a reflection of my remarkable recovery experience."
For more information, visit www.sistamonica.com