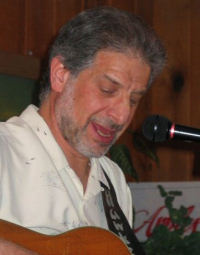 With over 40 years of performing experience, Michael "Hawkeye" Herman exemplifies the range of possibilities in acoustic blues, and personifies versatile musicianship, originality, and compelling artistry as a blues storyteller. His dynamic performances have won him a faithful following, and he leads a very active touring schedule of performances at festivals, concerts, school programs, and workshops. Hawkeye performs a wide variety of traditional blues, ballads, swing, and original tunes, on six-string and twelve-string guitar, and is an adept and exciting practitioner of slide guitar and slide mandolin. His music has been included in video documentaries and in three hit theatrical productions, and his solo CD, Blues Alive!, released in 1998, was greeted by rave reviews and greatly increased the demand for his live performances at major blues and folk festivals. His newest CD, It's All Blues To Me!, was released in May of 2005.
As a music educator, Hawkeye has taken his love of blues music to students of all ages, from pre-school to university campuses through his enthusiastically received "Blues in the Schools" programs, which he initiated in 1980. He has taught guitar for over 25 years, and has presented blues and slide guitar instructional workshops at major folk and blues festivals as a part of his frequent concert touring schedule. In May of 1998, Hawkeye received the "Keeping the Blues Alive" Award for achievement in education from the Blues Foundation in Memphis.
Hawkeye was the composer/musical director/musician for the hit play El Paso Blue, which has had successful runs in San Franciso, Seattle, San Diego, Chicago, Portland, at the Kennedy Center in Washington DC, Philadelphia (where he was awarded the prestigious Barrymore Theater Award for Best Original Music in a play for the '99/'00 season) and at the Oregon Shakespeare Festival in Ashland, OR. Hawkeye performed off Broadway in the New York City production of El Paso Blue in 2004. In 2002, Hawkeye collaborated with Pulitzer Prize-winning playwright Robert Schenkkan on the music for the West Coast premiere of Schenkkan's play, Handler, also produced at the Oregon Shakespeare Festival.
For more information, visit www.hawkeyeherman.com