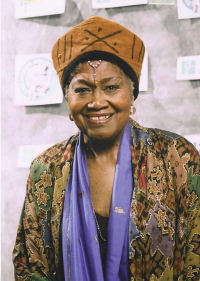 ODETTA, the "Queen of American Folk Music" (anointed by Martin Luther King, Jr. in 1964) and "Mother Goddess of Folk/Blues" (by New York Times in 1999) is one of the most influential artists of the 20th Century, with countless artists indebted to her pioneering ways. Before Odetta, no solo woman performer (let alone an African American woman!) singing blues, folk, work and protest songs had recorded or toured. And, she sang for the masses at the 1963 March on Washington; she took part in the march on Selma; she performed for President Kennedy and his cabinet on the nationally televised civil rights special "Dinner with the President"; and along with Marian Anderson and Paul Robeson, she was in the first group of artists to be honored with the Duke Ellington Fellowship Award. In 1994, she was appointed an `Elder' to the International Women's Conference in Beijing; and she was awarded the Presidential Medal of Arts in 1999 by the President and Mrs. Clinton. Her 1956 album, "ODETTA Sings Ballads & Blues," was the soul and inspiration for a young Janis Joplin to become a singer, while inspiring Bob Dylan to trade in his electric guitar and amp for a Gibson acoustic guitar and become a folk singer. She's also acted in films and theater; sung with symphony orchestras and in operas; hosted the Montreux Jazz Festival and starred in countless TV Specials. Her 2000 album, "BLUES EVERYWHERE I GO," was nominated for a Grammy. Her following album, "LOOKIN' FOR A HOME" was nominated for two 2002 W.C. Handy Awards, and in 2004, she was nominated for another W.C. Handy Award, as Best Traditional Female Blues Artist of the Year.
In 2005, ODETTA celebrated the 60th Anniversary of her storied career, beginning as a young actress and singer working alongside the legendary stage and film actress Elsa Lancaster at the famed Hollywood Turnabout Puppet Theatre, where she stayed as an active member of the company for four years. In 2005, she attended the premier of her concert film "Blues Divas" at the American Film Institute; SONY Pictures released the 30th Anniversary DVD Edition of "The Autobiography of Miss Jane Pittman" in which ODETTA co-starred with Cicely Tyson; she appeared on stage with Maya Angelou and Della Reese at the Kennedy Center in the presentation "Wisdom of our Black Elders;" and she was presented with the International Folk Alliance's Lifetime Achievement Award in Montreal. She was featured in Martin Scorsese's film "No Direction Home: Bob Dylan," and starred in BBC-TV's Concert Special "Talking Bob Dylan Blues" from London's Barbican Center. In November and early December she made a triumphant four week tour of Germany, Austria, Italy, Denmark and Sweden, and on New Year's Eve, ODETTA celebrated her 75th birthday with a concert at Boston's Berklee School of Music. Her voice remains as strong and impressive as ever. AND, she also recorded a Live Album of Negro Spirituals in 2005 – her first in forty-five years...
In 2006, ODETTA continues to support her new album by touring across North America and Europe and by appearing with national and regional media and press. In January she was honored in Oakland with the "Heritage Keeper Lifetime Achievement Award" from The Friends of Negro Spirituals, a national organization dedicated to the preservation of Negro Spirituals; and in February and March she performed on the national radio concert specials, "ARTIST CONFIDENTIAL" (XM Satellite Radio) and "WOODSONGS OLD TIME RADIO HOUR" in addition to appearing as the sole guest for one hour on Air America's "START THE REVOLTUION NOW with STEVE EARLE." Not forgetting her social commitments, in February she was flown by the US Embassy to Riga, Latvia for a series of events: keynote speaker at a Human Rights Seminar; to conduct a Master Class with a Latvian Pop-Gospel Choir; to perform a concert with a specific message of civil rights and racial harmony for all of Latvia's gov't officials and the foreign embassies.
For more information, visit www.mc-records.com