Friday evening, January 16, 2004
Doors open at 6:30 p.m. for barbecue dinner sold by Maverick's Steak House.
Music begins 7:30 p.m.

Click on pictures to enlarge.

Chris Smither - Over the last decade Smither has released one gem of an album after another. His music draws as deeply from the blues as it does from American folk music, modern poets and humanist philosophers. With Train Home, his 11th recording, Smither shows again how it should be done. Stereo Review says: "Smither recasts the folk blues in the ethereal language of the poet, projecting a kind of streetwise mysticism." Rolling Stone says: "Bathed in the flickering glow of passing headlights and neon bar signs, Smither's roots are as blue as they come. There is plenty of misty Louisiana and Lightnin' Hopkins in Smither's weathered singing and unhurried picking. So fine." Chris Smither's audience, which hails from all global regions, perfectly reflects the diversity of his sources. Guitar-heads are drawn to Smither's Lightnin' Hopkins/John Hurt derived fretwork; spiritual seekers nod in recognition at the hard-won knowledge casually tossed off in his lyrics. And just plain music fans who have come to Smither on their own - or have learned of his music from the multitude of artists covering his songs - return again and again.
Chris Smither's songs recorded by others include: Emmylou Harris, "Slow Surprise"; Bonnie Raitt, "Love Me Like A Man" and "I Feel the Same"; John Mayall "Mailorder Mystics"; Rosalie Sorrels, "Every Mother's Son"; Peter Mulvey, "Every Mother's Son"; and Christine Collister, "Love Me Like A Man." www.smither.com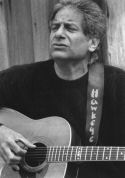 Michael "Hawkeye" Herman - With well over 35 years of performing experience, Michael "Hawkeye" Herman exemplifies the range of possibilities in acoustic blues. His dynamic performances have won him a faithful following, and he leads a very active touring schedule of performances at festivals, concerts, school programs, and workshops. Hawkeye performs a wide variety of traditional blues, ballads, swing, and original tunes, on six-string and twelve-string guitar, and is an adept and exciting practitioner of slide guitar and slide mandolin. His music has been included in documentaries and in three hit theatrical productions, and his CD, "Blues Alive!," was greeted by rave reviews. His newest CD, "It's All Blues To Me!" was released in February of 2003. Hawkeye personifies versatile musicianship, originality, and compelling artistry as a blues storyteller.
Hawkeye was the composer/musical director/musician for the hit play El Paso Blue, which has had successful runs in San Franciso, Seattle, San Diego, Chicago, Portland, at the Kennedy Center in Washington DC, in Philadelphia (where he was awarded the prestigious Barrymore Theater Award for Best Original Music in a play for the '99/'00 season) and at the Oregon Shakespeare Festival in Ashland, OR. Most recently, he collaborated with Pulitzer Prize winning playwright Robert Schenkkan on the music for the 2002 West Coast premiere of Schenkkanís play Handler, also produced at the Oregon Shakespeare Festival.
For the past five years, Hawkeye has served on the Board of Directors of the Blues Foundation in Memphis, and is chairperson of the Foundation's education committee. In May of 1998, Hawkeye received the "Keeping the Blues Alive" Award for achievement in education from the Blues Foundation. The award was the result of over 23 years of blues educational programs he has done for students of all ages. In 2000, Hawkeye helped found the Rogue Valley Blues Festival. www.hawkeyeherman.com

Papa Keith Liddy - Although Keith has played in many bands with styles ranging from rock to jazz and blues, his first love is the Blues. With roots in delta blues, country and folk, Keith plays and sings from the heart with soulful lucidity and raunchy grit.


Saturday evening, January 17, 2004
Doors open at 6:30 p.m. for barbecue dinner sold by Maverick's Steak House.
Music and Dancing begin 7 p.m.

Click on pictures to enlarge.

Holmes Brothers - Those who know and love gospel-drenched soul music know and love The Holmes Brothers. Originally from Virginia but based in New York City for almost 40 years, Sherman Holmes, Wendell Holmes and Willie 'Popsy' Dixon create some of the most spiritually uplifting and down-right funky music today. The Holmes Brothers effortlessly mix soul, blues, gospel, R&B and country into a sound Billboard described as 'utterly astounding.' Their breathtaking harmonies resonate with a passion and conviction matched only by their superior musicianship. Theyíve played with Peter Gabriel, Van Morrison, and Joan Osborne, and have gigged all over the world?even performing for President Clinton. Now theyíve joined the Alligator Records family with their label debut the inspirational, stirring and totally contemporary SPEAKING IN TONGUES, produced by multi-platinum superstar Joan Osborne (who also sings backup vocals throughout). Throughout SPEAKING IN TONGUES, the sweet gospel harmonies and classic soul shouting drip with authenticity and passion.
Since their debut on Rounder Records in 1989, The Holmes Brothers have worked virtually non-stop. In addition to their four critically acclaimed Rounder albums, they released Jubilation for Peter Gabrielís Real World label in 1992, becoming the first American group to record for the standout world music imprint. In 1994 they joined Van Morrison in the studio on the song Thatís Where Itís At for the Real World compilation album A Week Or Two In The Real World. 1996 found The Holmes Brothers starring in the independent motion picture, Lotto Land, for which they also recorded the soundtrack. The albums all received massive praise. 'Mind-blowing,' said the Boston Herald. 'Rich and satisfying,' raved The Washington Post. In 1997, Joan Osborne asked The Holmes Brothers to be her backing band when she opened for Bob Dylan. The Holmes Brothers have appeared on Late Night With David Letterman and National Public Radioís Mountain Stage. Theyíve been the subject of features and reviews in Rolling Stone, Billboard, Newsweek, USA Today, The Los Angeles Times, The Washington Post, The San Francisco Examiner, and countless other publications. Theyíve toured all across the globe (including numerous tours sponsored by the U.S. State Department), and never fail to win over audiences everywhere they play. www.alligator.com/artists/bio.cfm?ArtistID=069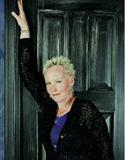 Ellen Whyte and Reflex Blue - Hailing from Portland, Ellen Whyte and Reflex Blue have made quite a name for themselves as one of the leading regional bands. Whyte and her band have been the recipients of the Cascade Blues Association Muddy Awards numerous times including: Best Contemporary Blues Band, 2002; Best Regional NW Recording, 2002; Best Performance of the Year, 2002 (Waterfront Blues Festival); Best Contemporary Blues Band, 2001; Best Female Vocalist, 2000; Best Contemporary Blues Band, 2000; Best Contemporary Blues Band, 1998; and Best Regional NW Recording, 1997. In 2002, Whyte was inducted into the Cascade Blues Association's Hall of Fame. Other members of Reflex Blue include: Jesse Schmunk on guitar; Sonny Boyardee on bass; Alex Shakeri on keyboards and harmonica; and Jay Lundell on drums. www.ellenwhyte.com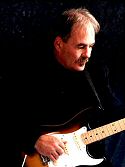 The Beau Berry Band - Beau Berry is a native of the Delta region of Mississippi, home of the blues. He is the band's guitar player as well as its lead vocalist. Beau spent most of his 35 years as a musician playing in the bars of Bourbon Street in New Orleans and in the clubs of Memphis. Some of the stars with whom Beau has shared the stage include Arron Nevill, Charlie Daniels, Juice Newton, B.B. King, Emy Lou Harris and Eddie Money. The Beau Berry Band is rapidly becoming one of the most sought after bands in the Rogue Valley.
www.thebeauberryband.fws1.com


Sunday evening, January 18, 2004 - Blues Jam
Doors open at 6:30 p.m. for barbecue dinner sold by Maverick's Steak House.
Music begins 7 p.m.
Host Band: Gabriel and the Technicians
Blues Festival Menu by Maverick's Steak House
Entrees:
Served with choice of two sides (ranch beans, cole slaw, country potato salad, corn)
Barbecue Ribs (beef or pork) $10.50
Barbecue Tri Tip Sandwich $8.50
1/2 Barbecue Chicken $10.50
Sauteed Portabello Mushrooms (vegetarian) $10.50
Deserts $3.00:
Apple Crisp
Brownies w/walnuts
Giant cookies

Saturday Workshops at Historic Ashland Armory
11 a.m. Chris Smither -- Blues guitar
12:30 a.m. Michael "Hawkeye" Herman -- Blues guitar
2:00 p.m. Gabriel Uri -- blues harmonica
Sunday Workshops at Historic Ashland Armory
12:15 p.m. Holmes Brothers -- Gospel sing-a-long
1:30 p.m. Ellen Whyte -- songwriting
3:00 p.m. Ariah Firewalker, lead singer with Gabriel & the Technicians -- Blues vocal techniques
Saturday and Sunday 12 p.m. to 4 p.m.
Free Performances
A Street Marketplace
Saturday
12-12:45 p.m. Craig Schmele and Dave Wilson
1-1:45 p.m. Kay Garwood
2-2:45 p.m. Peter Spring
3-4 p.m. Rob Lowry and Friends
Sunday
12-12:45 p.m. David Speigel and Susan Wells
1-1:45 p.m. Pete Herzog
2-2:45 p.m. Chuck Yates
3-4 p.m. Back Porch Swing, the music of Django Reinhardt (gypsy swing from the 20s & 30s)
Standing Stone Restaurant and Brewery
Saturday
12-12:45 p.m. Franklin Jones Band
1-1:45 p.m. Destiny Blues Band
2-2:45 p.m. Scott Woolsey
3-4 p.m. Back Porch Swing
Sunday
12-12:45 p.m. Stanislove
1-1:45 p.m. Gus Johnson and Mich Lewis
2-2:45 p.m. Roadmasters
3-4 p.m G Valmont Thomas

Tickets:
$50/weekend pass, includes workshops and blues jam
$25/Friday evening
$28/Saturday evening
$15/each workshop
$8/Blues jam

Charge by phone at 1-800-992-TIXX or on the web at www.ticketswest.com. Tickets subject to convenience charge.
Tickets may be purchased at the Music Coop in the A Street Marketplace, Oak and A Streets, Ashland or by sending a check and self-addressed stamped envelope to:
St. Clair Productions
PO Box 835
Ashland, OR 97520
Be sure and mention you are buying tickets for the Rogue Valley Blues Festival. For more information, call 541-535-3562.