Saturday evening, January 18 - Historic Ashland Armory
6:30 p.m. Barbecue Dinner by Two Pines Smokehouse.
Dinners
All come with choice of pasta salad, BBQ beans or cole slaw.
BBQ Baby Ribs 1/2 rack - $10.25
BBQ Beef Sandwich - $6.25
BBQ Quorn Vegetarian Sandwich - $6.25
Desserts
Apple Crisp - $3
Brownies - $3
Chocolate Chip Cookies - $2
Drinks
Soft drinks
Bottled water
Juice
Coffee
Alcoholic Beverages will be served in the beer garden.
Assorted wines available by glass and bottle.
Flat Tire Beer on sale.
7:00 p.m. Music begins.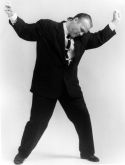 Curtis Salgado Band - Here's the game plan of what I do,says Salgado, whose musical adventures have led him to gigs as a singer and harmonica player with numerous bands, most notably the Robert Cray Band, Roomful of Blues, and, for a brief period, Santana: "I like a lot of different music. I like jazz and blues and soul and gospel and country and western. I like everything from George Jones to George Clinton, and that's the truth. My music is a hybrid of all the stuff that I admire. I just play what's in my head, and I try to piece the song together, and for whatever reason, it usually comes out as hard-ass rhythm and blues."
Salgado was the inspiration for Jake, the late John Belushi's Blues Brothers character, leading Belushi to dedicate the Blues Brothers' album Briefcase Full of Blues to Salgado. www.curtissalgado.com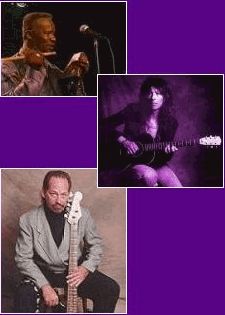 KK Martin, Lester Chambers and Ronnie (The Iceman) Schumake Trio - The venerable legend of rhythm and blues Lester Chambers joins with the modern disciple of Delta KK Martin to return to the roots of the blues. Born in Mississippi, Chambers was the voice and soul of the legendary Chambers Brothers. Starting out as a gospel group, The Chambers Brothers became an influential element of a new vanguard of young artists in the 60s and 70s, producing hits such as "Time has come Today" and "People Get Ready."
In the 70s and 80s, KK Martin played rock and roll. Martin did a brief stint as a replacement guitarist with the Albert Collins Band, and began doing session dates with the likes of Rick Derringer, Donald (Duck) Dunn from Booker T. and the M.G.s, It's a beautiful Day. Forming his own original rock trio, throughout the seventies and early eighties Martin performed and shared stages with, Van Halen, Journey, Quiet Riot, Motley Crue. The band was signed to A&M records from 85 to 87. The 90s found Martin returning to his first love -- the Blues. Martin's debut CD earned him the Los Angeles Music Awards and the House of Blues 1999 Outstanding Blues Artist.


Ronnie "The Iceman" Shumake began his professional career working R&B clubs in his home town of St. Louis, Missouri, the birthplace of the blues. He moved to Los Angeles to accept a gig with The Blossoms and has since gone on to play with Willie Nelson, Danny Gatton, Gary Muledeer, Papa John Creech, Delaney Bramlett, John Lee Hooker, Reed Gratz, Medley, Ray Price, The Crystals, Harvey Mandel, Tammy Wynette, Glen Campbell, Lester Chambers, Gary Lewis and the Playboys, Doug Kershaw and Canned Heat. For more than a dozen years, he served as music director for country music legend Roger Miller and, as a former member of Canned Heat, he is featured in The Rolling Stone Encyclopedia of Rock and Roll. www.lesterchambers.com

Sunday Evening, January 19 - 7 p.m. - Blues Jam -
Ashland Community Center, Winburn Way across from Lithia Park.

Host band: The Roadmasters with Craig Martin on guitar, Tom Freeman on drums and Tom Frederick on bass.

Saturday Workshops at the Historic Ashland Armory:
11 a.m. Guy Davis -- Routes of the Blues: some Blues history, some hands-on teaching
1:00 p.m. Lester Chambers -- Harmonica
2:30 p.m. KK Martin -- Blues guitar
Sunday Workshops at the Ashland Community Center:
11:30 a.m. Curtis Salgado - My Favorite Things: musical rarities from his personal video archives. Collected from years of swapping performance clips with fellow musicians, Salgado's archive is loaded with great blues, jazz, soul, gospel and rockabilly from the 1950s-70s. His intimate knowledge of the artists and their music, and his anecdotes and commentary, makes his selections come alive.
1:00 p.m. Ronnie Shumake -- Electric bass
2:30 p.m. Michael "Hawkeye" Herman -- Blues guitar
Saturday and Sunday 12-4p.m.
Free Performances at the Standing Stone Restaurant and Brewery
Saturday
12-12:30 p.m. Greg Willis
12:40-1:10 Keith Liddy
1:20-1:50 p.m. Jeff Stanley
2:00-2:20 p.m. David Speigel and Susan Wells
2:40-3:10 p.m. Terry Miner
3:20-3:50 p.m. George Rubiloff and Linda Powers
Sunday
12-12:30 p.m. Scott Woolsey
12:40-1:10 p.m. Dan Tiller
1:20-1:50 p.m. Gabriel and the Technicians
2:00-2:30 Gabriel and the Technicians
2:40-3:10 p.m. Gus Johnson and Mich Lewis
3:20-3:50 p.m. Beau Berry
Free Performances at the A Street Marketplace
Saturday
12-12:30 p.m. Franklin Jones
12:40-1:10 p.m. Peter Spring
1:20-1:50 p.m. Dan Tiller
2:00-2:30 p.m. Jen Ambrose
2:40-3:10 p.m. G Valmont Thomas
3:20-3:50 p.m. Chuck Yates
Sunday
12-12:30 p.m. Mark and Cindy de Groft
12:40-1:10 p.m. Kay Garwood
1:20-1:50 p.m. Jack Fischer
2:00-2:30 p.m. Destiny Blues Band
2:40-3:10 p.m. Destiny Blues Band
3:20-3:50 p.m. George Rubiloff and Linda Powers

Tickets:
$45/weekend pass, includes workshops and blues jam
$22/Friday evening
$25/Saturday evening
$15/each workshop
$8/Blues jam
Tickets may be purchased at the Music Coop in the A Street Marketplace, Oak and A Streets, Ashland or by sending a check and self-addressed stamped envelope to:
St. Clair Productions
PO Box 835
Ashland, OR 97520
Be sure and mention you are buying tickets for the Rogue Valley Blues Festival. For more information, call 541-535-3562.
Suggested places to stay:
Holiday Inn Express -- Special blues festival package: Two nights at the hotel and 1 weekend pass is $160.00. Two nights and 2 weekend passes is $230.00 Call the hotel directly at 541-201-0202 for best service.
Plaza Inn and Suites -- Call the hotel direct at 888-488-0358 and mention the Rogue Valley Blues Festival for a special rate.